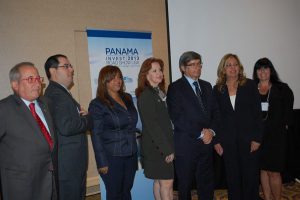 Panama Canal " Business as Usual or Complete Game Changer??" In 2014, the Panama Canal will celebrate its centennial, an event not simply just factual but will correspond to a new phase in its operation to include the completion of the $5.25 billion expansion project plan that will add a new set of locks to handle containerships in the 12- 15,000 TEU range making it one of the most important call centers ofworld distribution. Panama is only kilometers from one of the 7 wonders of the modern world from where America, Europe, Asia and Oceania can be accessed through four container ports, 2 cruise ship terminals, passenger, rail and cargo airports. The Panama Invest RoadShow USA included a four day city tour with stops in Los Angeles, Dallas, Miami and Boston, MAat the Omni Hotel in Boston and included information about the completion of the 3rd set of locks set to open late 2014 as well as investment opportunity in Free Trade Zone (Colon Free) allowing transhipment through Panama as a global freight distribution center and strategy of maritime shipping companies, terminal operators and supply chain management companies.
The most attractive financial advantage in the Colon Free Trade Zone is 0% tax in profits for operations overseas and 10% of opportunities for investors with competitive operation costs. The currency in circulation is the US Dollar providing a stable economical support. The growth in usage of the Panama Canal over the past few years has been almost entirely driven by increased U.S. imports from China passing through the canal en route to ports on the U.S. East and Gulf coasts. One major uncertainty today revolves around demand saturation for the American economy and remains unclear due to the housing bubble and a staggering level of debt based consumption. All of the canal-widening studies since the 1930s have determined that the best way to increase canal capacity and allow the Panamanian maritime route to continue to grow is by building a third set of locks larger than the 1914 locks. (The U.S. began excavations for new locks in 1939, but abandoned them in 1942 because of World War II. The Panama Canal Authority predicts that cargo volume transiting the canal will grow an average of 3 percent per year, doubling the 2005 tonnage by 2025. Allowing larger vessels will move more cargo per transit and gallon of water used. Containerized cargo ie., dry and liquid bulk have generated most of the canals revenues such as grains, corn, soy & wheat as well as as chemical products, like gas and crude oil and oil derivatives The vehicle carriers segment has become the third-largest income generator, replacing the liquid bulk segment. Shipping industry analyses conducted by the ACP and top industry experts indicate that the canal expansion would be beneficial to both the canal and its users because of the demand that will be served by allowing the transit of more tonnage.
AIR CARGO CLUB of NEW ENGLAND Air Cargo Club of New England (ACCNE)- Annual Board Meeting and Nominations event was held on Thursday October 3rd at the Marriott Courtyard in East Boston. Nominations to the Board of the Air Cargo Club of New England a non profit organization established in 1965, set the stage for the Annual Board Meeting this year. Elections are scheduled for the 2014 Installation Board at this year's Holiday party in December where the Elected Board officials will be announced. Michelle DeFronzo, the Air Cargo Club of New England's President has served two terms on the Board as President and admits although I am looking forward to new opportunities this is a bitter sweet ending, I had a great time contributing to one of the oldest non profit organizations in our industry and most proud of the value added benefits and initiatives leading to increased memberships, sponsorships and charitable donations by our organization. The ACCNE held informative events, created a website for employers and employees in our industry to connect with the talented pool of professionals within our cargo community and 2014 will be the 4th year of the scholarship program. I think we gave our cargo community members a really good reason to keep coming back.
Despite the recent government shutdown facing furloughed employees in Government services the Air Cargo Club of NE invited keynote speaker- Mr. Anthony Blaikie from the Department of Homeland Security. Mr. Blaikie a lifelong resident of East Boston now residing in Sagamore Beach (Bourne) with his wife and daughter is a Transportation Security Inspector and has worked in both surface (Trains, buses and ferries) and cargo inspection. Prior to inspection, Mr. Blaikie traveled across the US as a trainer in the Behavior Detection Program of the TSA and been with TSA since inception in 2002. Mr. Blaikie spoke to our cargo members about the TSA inspection program and about our Cargo Risk Based Inspection Techniques (CRBITs) Program and offered ways to detect, deter, prevent and disrupt threats toward civil aviation.