ImEx Cargo LLC is now registered as a Non-Gaming Vendor authorized by the MGC to conduct business with gaming establishments licensed by the MGC.
Want to join Wynn Casino??……Learn more about partnering opportunities here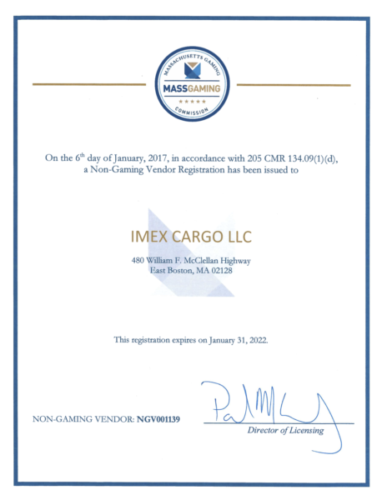 The Supplier Diversity Program (SDP) was established in 2010 to promote supplier diversity in public contracting. The program instituted policies to encourage the award of state contracts in a manner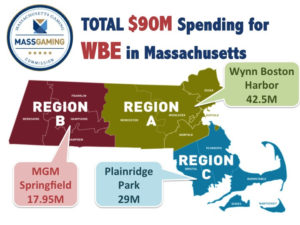 that develops and strengthens and increases business opportunities for Women Business Enterprise (WBE), Minority Business Enterprise (MBE), Service-Disabled Veteran Business Enterprise (SDVOBE) and Veteran Business Enterprise (VBE).
Learn more about Supplier Diversity…..
MASSGAMING developers are required to set diversity contracting goals and submit strategy plans for utilizing minority-owned, Women-Owned, and veteran-owned businesses to participate as contractors in all stages of building their gaming establishments.
Join ImEx Cargo for business development, networking, and workshops to provide capacity building and expanded opportunities for small and diverse businesses interested in pursuing supply-chain engagements with state, municipal, or private buyers.
Huge Benefits When Partnering with WBENC Suppliers
Diversity sourcing through Women's Business Enterprises (WBEs) is mandated by most corporations today. There are 350,000+ U.S. Companies with a Supplier Diversity program waiting to give you more business when you work with Women-Owned Businesses like ImEx Cargo.

ImEx Cargo is a certified diversity business with certification or membership in following:
Women's Business Enterprise National Council (WBENC)

Woman-Owned Small Business (WOSB)

Woman Business Enterprise (WBE)

Disadvantaged Business Enterprise (DBE)

Economically Disadvantaged Women-owned Small Business (EDWOSB )

Small Business Enterprise(SBE)

Small Local Business Enterprise (SLBE)

Airport Concession Disadvantaged Business Enterprise (ACDBE)